Descripción de la App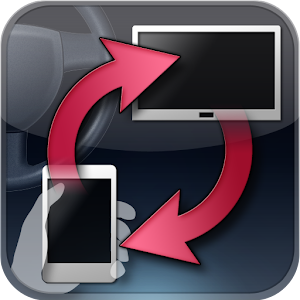 ¿Te gustaría que hubiese una manera más fácil y más segura de usar tu teléfono Android mientras conduces?
La aplicación AppRadio revoluciona la manera en que interactúas con tu equipo del coche. AppRadio te permite acceder otras aplicaciones compatibles, directamente desde la pantalla táctil de Pioneer. El contenido de tus aplicaciones están optimizadas para su uso en el vehículo y se puede tocar, deslizar y desplazar con el simple movimiento del dedo en la pantalla, como si estuvieras interactuando directamente con tu dispositivo Android. AppRadio también te recomendará y notificará las últimas aplicaciones compatibles.
• For Pioneer products featuring AppRadio Mode USB or AppRadio Mode +
 » How to connect
Connection is made through a single USB cable, you can use the Pioneer CD-MU200 USB to micro USB cable or the USB cable that comes with your phone.
 » Compatibility
Depending on the Android phone you use, AppRadio Mode USB may not function well in the default product setting.
Please change the AppRadioMode Sound System setting of your Pioneer product when you experience sound or image instability. Smartphone sound will then be played through your phone speaker instead of the AVH Car audio speakers, improving stability.
For some popular phones, the stable product setting is suggested below. The selection can only be made after you update your Pioneer product. The new firmware and instructions are available on your local Pioneer website.
AVH speakers/Default   Smartphone speaker
Google Nexus 5      Asus ZenFone 5
Google Nexus 5X     Google Nexus 6
Google Nexus 6P    
LG G Flex2        Optimus G Pro
LG G3          HTC One M8
LG G5          HTC One M9
Motorola Moto G1st    OnePlus One
Motorola Moto G2nd   
Motorola Moto X2nd   
Samsung Galaxy Alpha  Galaxy Note3
Samsung Galaxy S4 mini  Galaxy Note4
Samsung Galaxy S6    Galaxy S4
Samsung Note Edge    Galaxy S5
Samsung Galaxy Note 5  Galaxy S6 edge
Samsung Galaxy S7
Sony Xperia Z5 Compact  Xperia Z3+/Z4
 » Applicable products
– '15 Multimedia Tuners excluding AVH-X8700BT:
AVH-X1700DVD/X2700BT/X3700DAB/X5700DAB/X7700BT
– '16 Multimedia Tuners excluding AVH-X8800BT:
AVH-X1800DVD/X2800BT/X3800DAB/X390BT/X490DAB/X5800DAB/X7800BT
– '17 Multimedia Tuners:
SPH-DA230DAB, AVH-Z1000DVD/Z2000BT/Z3000DAB/Z5000BT/Z5000DAB/Z7000DAB
• For Pioneer products featuring AppRadio Mode via HDMI
 » How to connect
Connection is made through HDMI® and Bluetooth. Please use the HDMI adapter that your phone vendor recommends. If your phone supports MHL® to HDMI adapters and is not of the Samsung brand, you can use our Pioneer CD-AH200 adapter.
 » Compatibility
A smartphone with HDMI video output is required.
* Screen flicker can be avoided by turning off hardware overlays in the developer options of your phone (Settings → About Device → tap Build Number several times)
 » Applicable products
– SPH-DA100/DA110/DA120
– Multimedia Tuners AVH-X8500BT/X8600BT/X8700BT/X8800BT
– Navigation Receivers AVIC-F950BT/F950DAB/F960BT/F960DAB/F970BT/F970DAB/F50BT/F60DAB/F70DAB/F77DAB/F88DAB
Software End User License Agreement
http://www.avicfeeds.com/avicfeeds/AppRadio2/license/EULA_index.html
Valoración de la aplicación
2.4
4627 valoraciones en total
Opciones de descarga de la App
Si lo deseas puedes obtener una copia de la app en formato APK. Seguidamente te listamos las diferentes opciones de descarga disponibles:

Fotos de la aplicación